ALPHA STORIES, FOR THE SMART AND FREQUENT TRAVELER ABROAD
Barcelona Nightlife and Neighborhoods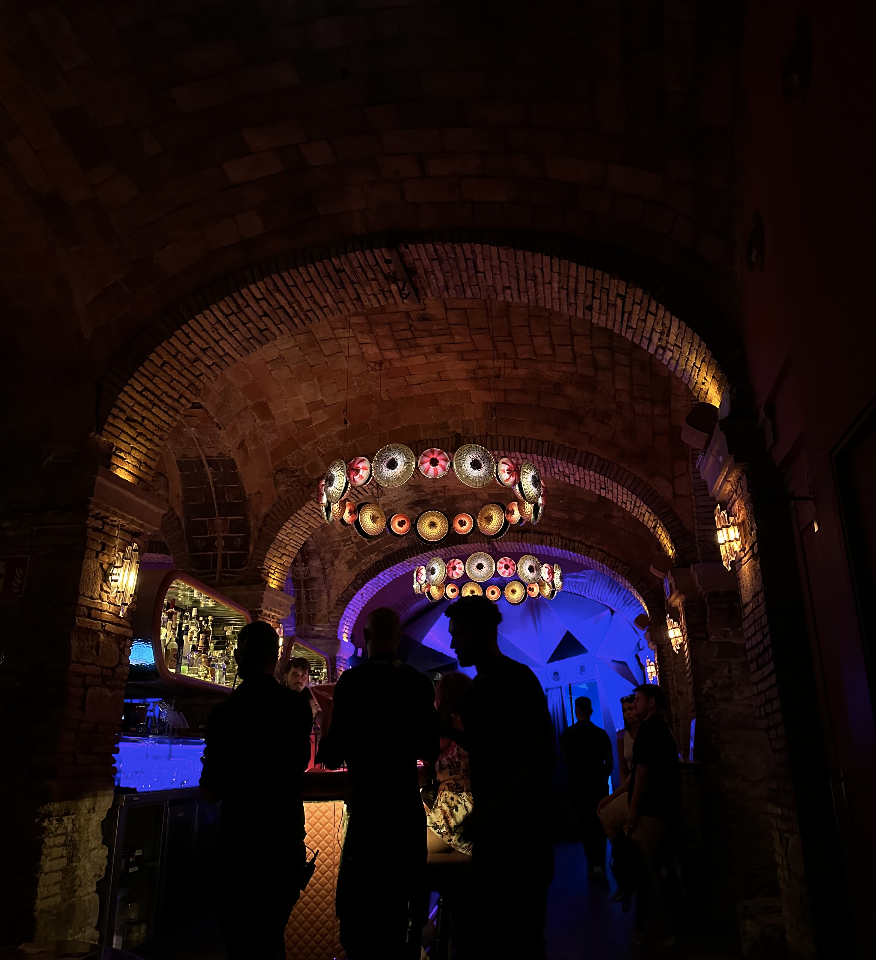 You will never run out of things to do in Barcelona, here's your guide to the coolest neighborhoods and best nightlife to make your trip worthwhile. Barcelona is filled with people coming and going from all over the world giving it an international vibe while still letting you experience the best of Spanish Culture. Get ready for some of the wildest nights, tons of tapas and alluring architecture. I have been visiting Barcelona since I was 15 and continue to leave the city wishing I had time to explore even more. Here are the areas you need to see while you're in town and the clubs you'll regret not going to.
(Casa Batlló)
Top Areas To Explore:
Borne District
If you're looking to step away from the crowded streets of tourists and experience local bars and tapas this neighborhood is for you. The Borne District has an artsy aesthetic and is filled with a younger crowd and tons of things to do during the day and night. The Passieg del Born Square is a great starting point and you will find a plethora of nightlife options. During the day it is also an amazing spot to experience vintage shops, local artists, not to mention some of Barcelona's best art museums. The Borne district is definitely the hipster side of Barcelona and one of my favorites to find cool hole-in-the-wall boutiques, stores and restaurants.
(archway in the neighborhood)
Bar Recommendations in the Area:
This cocktail bar is great for snacks,drinks and the perfect meeting point to start your evening and get some pinchos before a long night of drinking.
This two story bar has incredible tapas and a great selection of cocktails. This is the perfect hangout spot as it has a pool table, ping pong, and even a private karaoke room.
Daytime Suggestions in the Borne Neighborhood:
Picasso Museum – Picasso studied in Barcelona and donated a large collection of art to the city. The best part? – it's free on Sundays!
(Cascada Monumental in Parc De La Ciutadella)
Parc De La Ciutadella – Barcelona's largest park with gorgeous gardens and glorious monuments. There is also a boating lake and Zoo. Highly recommend taking a stroll here!
The Gothic Quarter
This neighborhood feels like you're traveling back in time to a different era. It's famous for its medieval and gothic architecture and twisting narrow streets. Located right next to the Borne District this is another must see part of the city. The neighborhood is one of my top recommendations because you can find whatever you're looking for in terms of restaurants, bars, or shopping. Placa Reial is a great starting point and a must while visiting this area.
(Placa Reial)
Bar / Restaurant Recommendations:
Monk Barcelona – This is a gorgeous cocktail bar hidden inside of a market, sometimes there can be a line as it gets later so I recommend arriving early
(Bar Monk)
La Plata – Authentic Pintxos bar with great prices. Pintxos are small dishes that have a slice of bread with something delicious on top. They range from sweet to savory and I recommend trying them all.
Resturante Carmina – This restaurant is on the nicer side but has an amazing selection of Catalan dishes that lets you try the authentic dishes of Barcelona. If you're trying to spend less I recommend ordering a few of the smaller dishes off the Para Picar section, my favorites are the Achoas de Santona, Croquetas de Gorgenzola,& Mini Steak Tartare.
(Carmina Restaurant)
Area Recommendations to see during the day:
La Sagrada Familia – This famous basilica has the most stunning interior that is absolutely worth paying a visit. It's impossible to miss the twisted towers looming over the city. Depending on the time of day different rainbows will reflect throughout the interior. Be sure to get your tickets in advance as it can sell out easily. I recommend arriving 15 minutes prior to your visit to walk around the surrounding gardens and check out the details on the outside.
(La Sagrada Familia during the afternoon sun)
La Boqueria – I love to come here when I am not sure what food I am in the mood for because you can find everything from fresh juices, seafood, and traditional dishes like Jamon. It's impossible to leave here without finding the perfect snack, and a great place to try new ones. Cheeses and meats from here are my go to vacuum sealed gifts to bring back for friends.
(La Boqueria)
Other Sightseeing Points – The Cathedral of Barcelona, MUHBA Templo de Augusto (free), and Mural de Besos are all fun points to try to check out as you let yourself wander the medieval alleyways.
Gracia Neighborhood
This neighborhood is another hidden gem that lets you catch a break from the tourist chaos. Gracia is mainly for walkers with a lot of streets being too narrow for cars. It's famous for its plazas and squares and they make for the perfect place to stop and rest if you need a break from walking. This is the place where you can find boutiques, art galleries, and authentic Spanish bars with good prices. Placa De Sol is a great starting point when visiting the area and one of the main squares to check out, though I do recommend hopping around them all.
(Carrer Gran De Gracia)
Restaurant / Bar Areas To Check Out:
Plaça de la Vila de Gràcia
Plaça del Sol (two blocks from Plaça de la Vila)
Plaça de la Revolució
All of these bars have awesome prices and tapas. It's very common for friend groups in Barcelona to meet us in these Plaças, order drinks and hangout for hours.
(Cadaqués Restaurant in Plaça de la Vila de Gràcia)
Things to do during the day:
Career Verdi – This long street runs through the whole neighborhood and has awesome boutiques, art galleries, and endless food options.
Park Guell – I can't recommend this enough for sunset. You need to pay to access some of the areas so get your tickets in advance and don't be late as they only let residents of the area in after certain times. Also yes, the steps are so worth it for the view.
Best Barcelona Clubs:
(La Terreza Club)
Barcelona is the ultimate party city and clubbing is a must while visiting. Things in Barcelona tend to run a bit later so I recommend showing up to the club around midnight, most don't actually open until around that time anyway. Make it a point to check out tickets and dress code prior to arriving at the club to ensure your entry and the best night ever.
Razzmataz – This club is one of my all time favorites. It has seven different rooms with seven different vibes going on so there's always something new to keep you entertained throughout the night. This is one of the city's biggest clubs and it does sell out sometimes so be sure to get your tickets in advance online.
Sutton Club– Easily one of the best clubs in the city. The music will vary depending on the day of the week. Thursdays are a big day for University Students and usually have top hits and Reggaeton, Fridays and Saturdays can vary. This is a super elegant club so make sure you dress accordingly to be sure you get in – dress shoes are required for men. Sutton has a main stage room as well as a smaller room that will keep you dancing until the morning.
Bling Bling Club– Located Across the street from Sutton this venue has way more locals than tourists. You can experience actual reggaeton and Spanish music. Great place to practice your Spanish and make some new friends who live in the city. Bling Bling also has a strict dress code. Men should be sure to wear dressier shoes / no sneakers.
Apolo Club- This is the ultimate techno spot and also popular with the locals. It's a party almost every weekday and drink prices are average. This is the Ramblas neighborhood which is notorious for pickpockets so keep your belongings close!
Pacha / Shoko/ Opium– These clubs have major DJs come from all over the world and are located directly along the beach. These are major tourist hot spots and you will mostly meet Americans and British people. Be very careful of pickpockets around the beach area.
LaTerreza– This is one of the coolest clubs I've ever been to. You enter through what feels like a fortress and follow the sound of the music while walking through this replica village. This is another must if you love electronic music and want to experience what it's like to rave in a castle. It's open only from May – October but always a great time.
Other Must see Places in the City:
House of Gaudi – One of the most famous buildings in Barcelona, you can pay to go inside but it's free to appreciate its wonders from the outside.
Carrer De Blais – This street is all Tapas and the perfect pregame spot for drinks and food before any night out. There are endless tapas restaurants to choose from and the prices are awesome.
(Typical Pintxos on Carrer de Blai)
Tips / Advice for Navigating the City:
Transport –
Get the T-Casual Card to take the busses and trains around the city, this can often be much faster than driving
If you are calling a car I suggest downloading these taxi apps (Uber, Bolt, Cabify, Freenow) and comparing prices to get the best deal. Also – always reserve your cab for any airport transport 1 day in advance as it can be hard to get cabs in the early morning.
Pick Pocketing-
I have mentioned this throughout this article but Barcelona is notorious for skilled pickpockets.. Ladies don't go out with purses that are hanging low and easily accessible and Guys – don't keep your phone or wallet in your back pocket walking around. Just be aware and you will be totally fine.
Written By: Tara for Abroadeez
ADDITIONAL PHOTO OPTIONS: