INTRODUCING ALPHA,  ENHANCED HOTEL STAYS FOR THE SMART AND FREQUENT TRAVELER ABROAD
We take great pride in providing personalized service to our student travelers abroad.  Our network of hand-selected, 3* and 4* quality partner hotels have been chosen to be part of Alpha, based on shared client experience feedback, location, safety, and cleanliness.
As a luxury agency , we understand the importance of hotel amenity offers to enrich your stay. Below are some of the perks you will enjoy when you book your stay as an Alpha. Alpha perks will differ per hotel.  
Let us earn your trust. Your adventure starts now.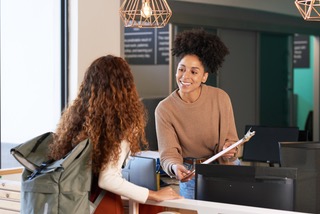 Easy Check In 
Early Check In on Availability, Late Check Out on Availability , and Prepaid Stays to make your arrival  and departure easy.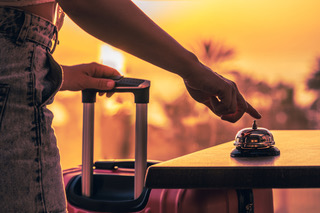 Late check in after midnight
Many students travel after classes, or in the evenings for better priced flights. Alpha hotels listed will check you in up to 2am.
Water provided to the room
We polled our travelers and water bottles in the room was number one for requested perks.
Welcome drink
Some Alpha hotels are offering a welcome drink to start your stay the right way. Alcoholic and non alcoholic.
Continental Breakfast
Coffee and a roll and some fruit is a great way to start your day.
Snacks in the Room
Complimentary snacks in the room after a long day of sightseeing or night out is always welcome for our Alpha guests.
What Sets ALPHA Apart
Our experienced and well

traveled team is always excited to make your trip a memorable one and your hotel stay personal.
As  travel agents committed to creating trips filled with  luxury and adventure , we are celebrated by partners and travelers alike for our hands-on approach. Hotels appreciate how Alpha bookings are  followed up with concierge phone calls, insightful emails, and personalized messages to ensure satisfaction. All clients, students included are made to feel like a VIP.
What We Look For In A Hotel Partner
Independent or Small-Group Hotels: Our travelers appreciate the unique experiences and personal touches that come with family owned and boutique hotels.
Glowing Reputation: Alpha only chooses hotels Abroadeez has  booked, and received a positive review from.
24/7 Front Desk: Safety Safety Safety
Easy Check-In: We believe there's no reason to overcomplicate things! We are on the lookout for lodging partners that also value convenience for our travelers.
Location: Our ideal hotel partners are centrally located.
Lorem ipsum dolor sit amet, consectetur adipiscing elit, sed do eiusmod tempor incididunt ut labore et dolore magna aliqua. Ut enim ad minim veniam, quis nostrud exercitation ullamco laboris nisi ut aliquip ex ea commodo consequat. Duis aute irure dolor in reprehenderit in voluptate velit esse cillum dolore eu fugiat nulla pariatur. Excepteur sint occaecat cupidatat non proident, sunt in culpa qui officia deserunt mollit anim id est laborum
Lorem ipsum dolor sit amet, consectetur adipiscing elit, sed do eiusmod tempor incididunt ut labore et dolore magna aliqua. Ut enim ad minim veniam, quis nostrud exercitation ullamco laboris nisi ut aliquip ex ea commodo consequat. Duis aute irure dolor in reprehenderit in voluptate velit esse cillum dolore eu fugiat nulla pariatur. Excepteur sint occaecat cupidatat non proident, sunt in culpa qui officia deserunt mollit anim id est laborum
Lorem ipsum dolor sit amet, consectetur adipiscing elit, sed do eiusmod tempor incididunt ut labore et dolore magna aliqua. Ut enim ad minim veniam, quis nostrud exercitation ullamco laboris nisi ut aliquip ex ea commodo consequat. Duis aute irure dolor in reprehenderit in voluptate velit esse cillum dolore eu fugiat nulla pariatur. Excepteur sint occaecat cupidatat non proident, sunt in culpa qui officia deserunt mollit anim id est laborum