ALPHA STORIES, FOR THE SMART AND FREQUENT TRAVELER ABROAD
Exploring Florence's Coolest Spots: Your Ultimate Guide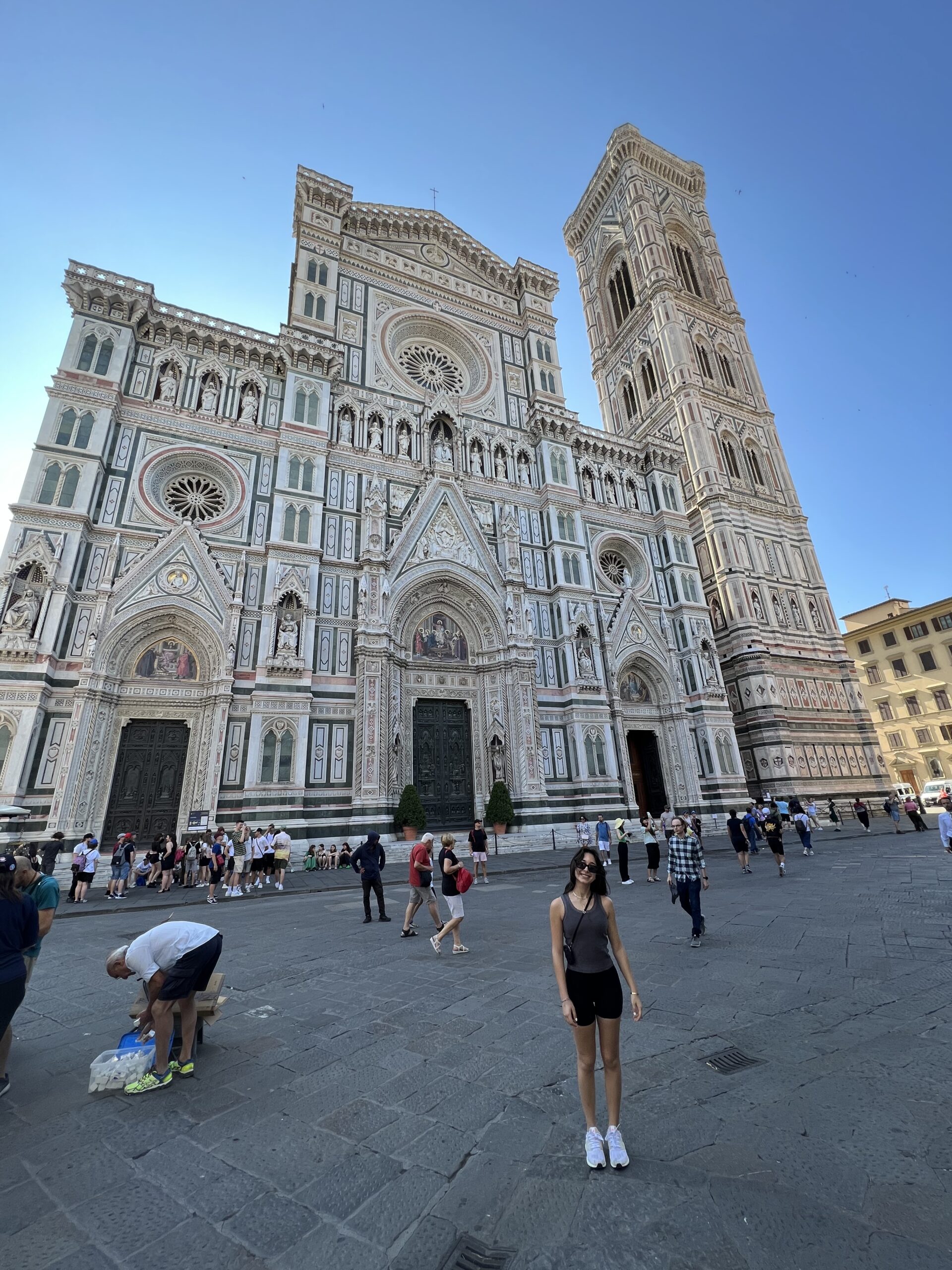 If you're looking for an epic travel experience that combines cultural experiences with loads of fun, Florence is the perfect city for you. Located in the heart of Tuscany, Florence is one of Italy's most beautiful cities filled with so much history and countless fun activities to try. Walking around the streets of Florence feels like stepping into a time machine. This vibrant city has some of the most breathtaking architecture and incredible historical neighborhoods that have become the ultimate cool hangout spots. Florence has it all with the perfect blend of both culture and fun. Below find my guide to the historical attractions worth your time and the neighborhoods you won't be able to get enough of.
(The Arno River runs throughout the center of the city)
Museums & Historical Locations You Can't Miss
Duomo
You can't visit Florence and not see this iconic building. Also referred to as the Cattedrale di Santa Maria del Fiore, the exterior of this building is truly art. The inside houses breathtaking Frescos and a mesmerizing ceiling. Once considered the largest arched ceiling in the world, don't miss out on Brunelleschi's Dome located just across the square for an amazing panoramic view of the city. I recommend going to the Duomo early in the morning just after opening to avoid the crowds and have the place to yourself, It's worth it to get tickets in advance.
The David
This is truly one of the most iconic statues in the world, created by Michaelangelo during the Renaissance period David is still impossible not to be in awe of to this day. The statue is located in the Galleria dell'Accademia and is just one of the many incredible Renaissance artistic achievements Florence boasts. You can't skip the line to the David but you can skip the long line of people without reservations for it. Have your booking handy and hop in the much shorter line to grab your official tickets, which can save you hours of your day.
(one of the many Reniassance pieces in the Uffizi Gallery)
Uffizi Gallery
The Uffizi is home to the world's greatest Renaissance masterpieces, With such a large collection it's good to plan your visit before making the most of it. I suggest reading up a bit on the classics like "The Birth of Venus" and Michelangelo's "Tondo Doni." While some pieces are a must-see, don't miss out on exploring the less crowded sections as they are also home to so many gems. Given the gallery's popularity, consider visiting either early in the morning or during the quieter afternoon hours, and don't miss out on the stunning views of Florence from the gallery's windows.
(entrance to Santa Maria Novella Pharmacy)
Santa Maria Novella Pharmacy
This is not your typical pharmacy, it's a centuries-old apothecary with art installations and gold-adorned ceilings that make it look more like a museum than a business. You'll find gorgeous perfumes, soaps, and traditional skincare/herbal products. The entire place is extremely Instagram-worthy and has plenty of backdrops that will make your followers jealous. I consider this the perfect spot to pick up gifts for anyone back home. Even if you aren't into skincare this hidden historical gem is well worth the visit, and it's completely free to check out.
(Gucci Garden)
Gucci Garden
If you have an eye for fashion you can't miss this exhibit. Gucci was founded in Florence and the influence of the brand can be seen all throughout the city from street vendor designs to locals fashion. They have an amazing exhibit of their history as well as some of their most iconic celebrity looks and interactive displays. This museum offers fantastic photo opportunities as well and entry is only 8€.
(View of the city from Buboli Gardens)
Buboli Gardens
Make sure you carve out some time to visit the stunning Buboli Gardens. Located right behind the Pitti Palace these gardens feel like you are walking into a fairytale. One of my favorite things to do here is have a big picnic with friends overlooking the gorgeous city view. You can also work here, or just roam for hours and explore. This feels like a breath of fresh air from the city and if you are a student you can enter for just 3€.
Areas To Hangout In
Piazza Di Santa Croce
There is so much to see and do in this area of the city. The museum and Santa Croce Basilica is amazing but it's also one of the best locations to sit and people-watch. The piazza is filled with really good cocktail spots that make it the prime happy hour location.
Basillico Di Santo Spirito Area
This is one of my favorite neighborhoods in all of Florence. This part of the city lets you step away from tourists, offering an authentic laid-back experience. The streets are overflowing with hole-in-the-wall restaurants and artisan shops. This is a great place to do some real local shopping, explore cafe culture, and check out farmer's markets (usually on Sundays but check online before you go). Santo Spirito has endless things to discover for everyone, including an iconic photo booth (Fotoautomatica) that is super cute for documenting your time abroad.
(Foto Automatica)
SS Annunziata Area
This area is overflowing with students, international restaurants, and tons of budget-friendly cafes/dining options. I love coming to this area for the aperitif bars, which is a bar that brings you tons of little bites with your drink order. You can easily fill up from a delicious selection of little dishes for less than 10 euros. My favorite streets to hunt down aperitif options are Via Bufalini, Via Capponi, and Via dei Servi.
Piazzale Michelangelo
This is truly one of the best sunset experiences I have ever had. As golden hour fills Piazzale Michaelangelo you'll find local artists giving concerts, people dancing, and the sun perfectly setting into the brides over the Arno rover. It's a bit of a walk to get up here but it when you arrive you'll have no regrets. A lot of people bring their own drinks but there are also some small street car vendors at the top selling beers as well as a restaurant. This is the most famous view of Florence so make sure you show up a bit earlier to secure a great spot and give yourself plenty of time to enjoy.
(Piazzale Michelangelo at Sunset)
Don't Dos
Avoid Taxis. They are so overpriced here and the drivers notoriously upcharge tourists. The city is so walkable so I highly recommend giving yourself extra time to get places on foot. This is also one of the best ways to see many of Florence's narrow streets filled with gems.
Try not to eat at any of the restaurants directly in the Palazzos. These are often both overpriced and not true authentic Italian cuisine. You can find much better prices and quality if you walk off onto the side streets.
I learned this one the hard way, don't ask for cheese on top of any seafood dishes. This is extremely taboo in Italian Culture and can offend both waiters and chefs. It is however completely fine to ask for cheese on top of nonseafood pasta dishes etc.
(Buboli Gardens)
(Piazza Di Santo Spirito)