ALPHA STORIES, FOR THE SMART AND FREQUENT TRAVELER ABROAD
Calling all Wine and Food Lovers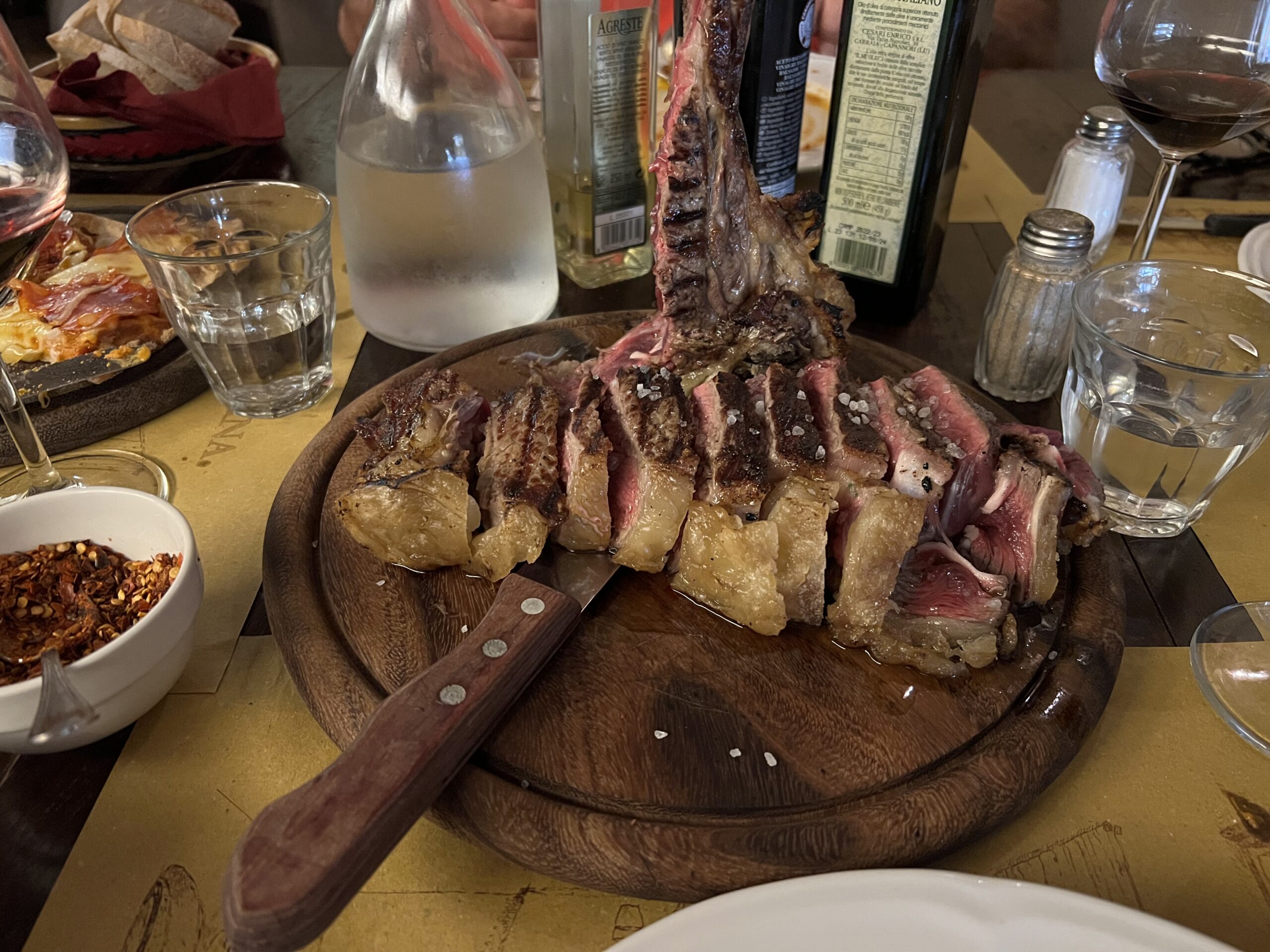 If you are a foodie you have come to the right place. Florence has some of the best restaurants in the world and Tuscan wines I am still dreaming about to this day. People come from all around the world to experience Florentian-style cuisine, from pizza to juicy steaks there are endless dishes to try. Bonus, You won't break the bank eating like a king here. With an abundance of food choices, it can feel overwhelming to know what to choose and where to go. Here is your guide to the restaurants you'll be craving for years to come and wine-tasting experiences that will truly have you living la dolce vita.
What to eat in Florence:
(Gusta Pizza)
This is truly the best pizza I have ever had in my life and a place you can't miss in Florence. In peak tourist seasons you can sometimes see a line forming outside but I assure you it is truly worth the wait! I love to grab a drink from a nearby wine window or bar in the San Spirito Piazza and bring it with me to pass the time in the line. As you enter the smells from the wood-fired open-air kitchen will instantly make you hungry. The craziest part about this place? Most of their pizzas are under 10 euros.
With fresh pasta prepared nightly and gnocchi that is famous for its bubbling cheese, this place is hard to beat. Despite being so popular this spot makes you feel as though you are being served a home-style Italian meal. It's located in Santo Spirito Piazza and has a menu filled with classic Tuscan dishes that make it impossible to go wrong.
(Osteria Santo Spirto)
This is the best panini place in Florence. I still think about their cream of truffle prosciutto sandwich called La Boss. This place can have a bit of a line but it always moves fast. You can dine in here, or my favorite is doing takeaway and eating in the nearby Santa Croce Piazza for the ultimate Italian lunch view. A major plus is that all items on the menu are under 12 euros.
This indoor open market has every food you can imagine and is so perfect if you aren't sure what you are in the mood for. The first floor is grocery vendors selling meats, pastas, etc. and the second floor is the food hall with so many options. From fresh truffle pasta to paninis and seafood plates you will find something you love. They even teach a cooking class here if you are curious to learn how to make your own Italian dishes. This market is also so nice when it's hot out as the perfect venue to cool down.
(Mercato Centrale Firenze)
This is one of the dreamiest restaurants in Florence. With candle-lit tables, exposed brick, and hanging lights this spot feels like you walking into an Italian romance film. Not only does it have an amazing atmosphere but the menu is also incredible. I highly recommend the pear pavilions. La Giostra is extremely popular so make sure you book in advance to ensure the perfect night.
(Via La Giostra Instagram)
It can't be la dolce vita without dessert. If you have a sweet tooth, this is for you. Located right along the river this place is the ultimate gelato dream. Grab your favorite flavor and catch the sunset or enjoy a post-dinner gelato stroll along the river.
My Top Picks for Wine Tasting in Florence:
You'll quickly learn Italians take their wine very seriously. Their particularity about taste and atmosphere will lead to incredible wine tasting experiences for you, in both vineyards and restaurants. Below are some of my favorites.
This is what Tuscan countryside dreams are made of. This vineyard boasts rolling hills with views of historic castles in the distance that make you feel as though you walking through an Italian movie. Ornellia is one of the most breathtaking exclusive vineyards in the Tuscan region. They offer a wine dinner immersive experience beginning at sunset that starts with a tease of some of their best sellers and turns into a wine-paired Mediterranean dinner. Even without the dinner, this estate is worth a visit.
This gorgeous vineyard tucked away in the Tuscan countryside can be a bit of a journey to get to, but once you arrive and are greeted by their wine selection you'll find it was worth the trek. This vineyard is considered extremely modern for the region and is famous not only for its wine but for architecture as well. Your tour will include a visit to the small museum on the property and by the time you leave, you'll be feeling like a wine expert.
(Via Rocca di Frassinello Instagram)
Signor Vino is the cutest wine shop that also offers an incredible view of the Arno River. You can come here for just drinks or a meal that will pair perfectly with your wines as well. I love to come and order a wine flight to experience new flavors and one of their cheese boards to share with friends. The best part is if you love something you try, you can buy it on your way out. I recommend making a reservation in advance for this as they can have limited time slots the day of.
You will come here for the views but stay for the wine. Located on the roof of Hotel Delgi, Panorama Bar offers one of the best views of Florence. Their wine selection is curated from a local family vineyard that has been around for over two centuries, and once you taste it you will see why! From their Chianti Classico to their Gran Selezione Hotel Delgi has the key to every wine lover's heart and the views to top it all off.
(Via Hotel Delgi Instagram)
Wine Windows of Florence
(Babae Wine Window)
It's worth mentioning the wine bars or "Buchetta de Vino" of Florence. Originally used during the Bubonic plague in the 1600s as a way for shopkeepers to safely serve wine they were reopened during the Covid19 pandemic. Now they serve as a fun way to get a to-go drink or a glass to enjoy in the streets as you take in the local Florence street life. Below are my favorite wine windows worth checking out.
Via Santo Spirito, 21R, 50125 Firenze FI, Italy
Via delle Belle Donne, 16R, 50123 Firenze FI, Italy
Via Isola delle Stinche, 7r, 50122 Firenze FI, Italy (this wine window does not serve alcohol but instead delivers gelato and streets through a small window onto the street)
Bars worth Visiting:
(Arts Inn)
This unique cocktail bar doubles as an art gallery. The moment you enter you are engulfed by local Florence artist's work and Instagram-worthy backgrounds. The cocktails here are unique twists on classic drinks, my favorite is the fire-roasted expresso martini. As you sip on yours be sure to check out the gallery upstairs as well.
(Mayday Club)
This gem is located in the heart of Florence and is one of my favorite bars I have ever been to. It's lit with colorful moody lights and filled with vintage decorations. Inside you'll meet a mix of locals and tourists from around the world. They have handcrafted microbrews on tap and cocktails that will leave you in awe.
Sabor is the most fun Cuban bar located center city. Every night they have live music and performances that eventually lead to everyone dancing on the streets. Both Italians and tourists love this place for its Cuban style. Their mojitos are one of the best ones I have experienced to this day. Be prepared to end up dancing here all night long.
The girl dinner is about to get a major upgrade during your time in Florence. Get ready to be served endless wine pours and meals you'll be thinking about for a long time.
Additional Photos:
(Gusta Pizza)
(Via Ornellaia Instagram)
(Via Ornellaia Instagram)