ALPHA STORIES, FOR THE SMART AND FREQUENT TRAVELER ABROAD
Your Guide to Thanksgiving Abroad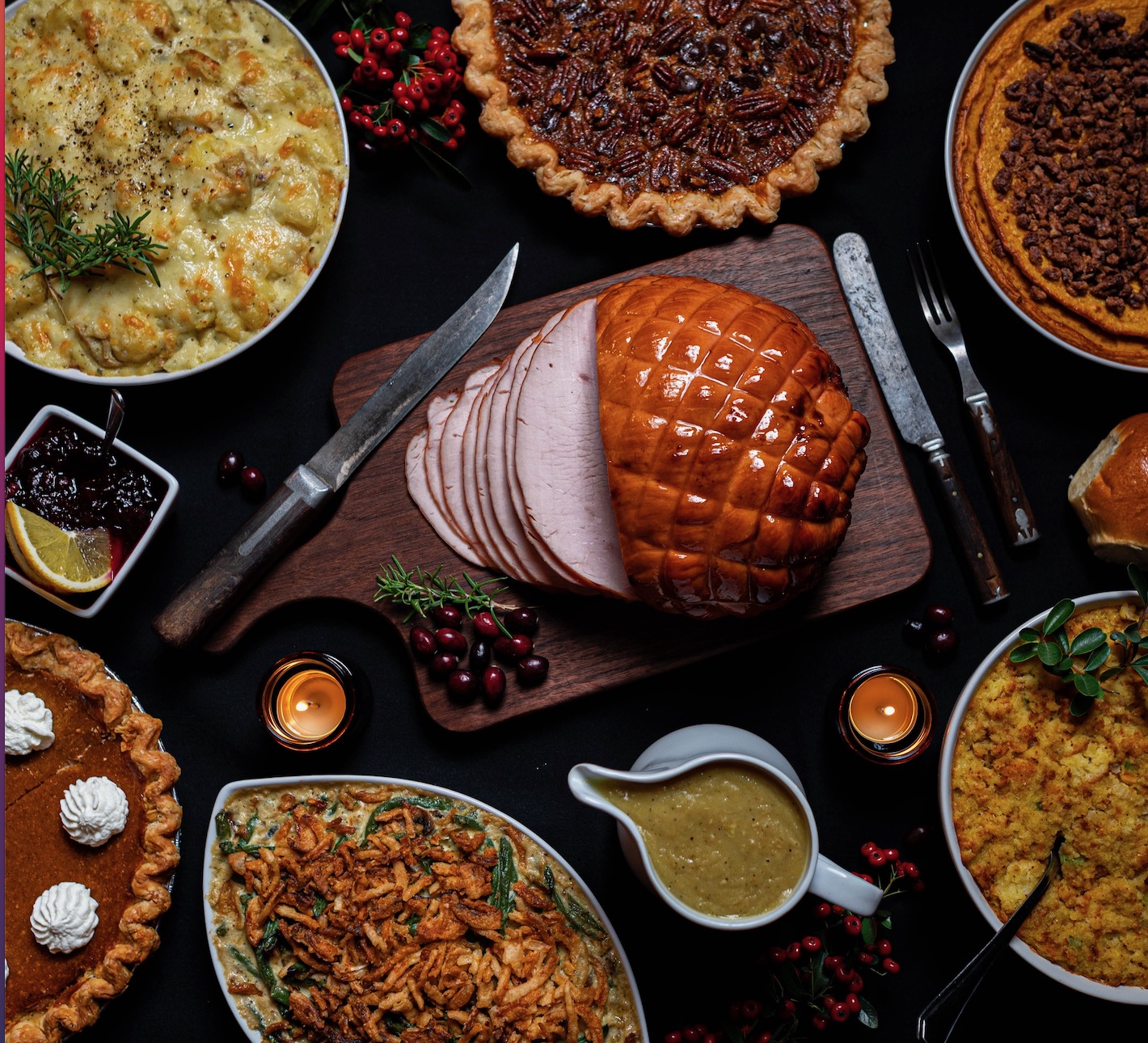 (Royalty Free Thanksgiving Image)
Being in a new place during the Holidays can feel strange. I was worried studying abroad during Thanksgiving would mean missing out on my favorite dishes and that feeling of holiday spirit. However, it ended up being one of the most fun nights of our semester with tons of experiences to be thankful for and new friends to celebrate with. Being overseas doesn't mean missing out on Thanksgiving dinner with so many different options for you to eat your heart out. Below find some recommendations for delicious dinners that you and your abroad family can get in the spirit with. Make sure to confirm reservations in advance as there are many expats abroad also looking to secure Thanksgiving plans!
LONDON
Honey & Co
At 45 pounds a head, this is one of the best-priced Thanksgiving Dinners in London! Honey & Co offers up large sharing-style platters that will truly bring that family feeling to your dinner table. The link below to book your 3 course Thanksgiving dinner now.
Booking Link: https://honeyandco.co.uk/daily-supper-club/
Address: 54 Lamb's Conduit St, London WC1N 3LW, UK
(Via Duck & Waffle Website)
Duck & Waffle
This restaurant brings the fall vibes with its typical menu but really blows it out of the water to satisfy all your Thanksgiving cravings. If you're looking to save, you can opt for lunch instead of dinner for 55 pounds per person, or stick to a classic dinner for 90 pounds per person. They also have an optional wine pairing for 45 pounds you can add on for amazing glasses paired perfectly to your dinner.
Booking Link: https://duckandwaffle.com/london/menu/thanksgiving-2023/
Address: 110 Bishopsgate, London EC2N 4AY, United Kingdom
Riding House
Riding House loves any excuse to dish up their famous holiday cocktails that pair perfectly with their amazing Thanksgiving menu. Sip on a Kentucky Bucket or Black Friday Fashion while you enjoy all the classic flavors from the other side of the pond in family-style servings. Prices are 55 pounds per person, drinks not included.
Booking Link: https://www.riding.house/thanksgiving-2023-1
Address: Riding House has locations in Soho, Fitzrovia, & Covent Garden
FLORENCE
Harry's Bar
Harry's is famous for their amazing annual Thanksgiving feast happening since 1953, making it one of the most sought-after dinners in Florence. This American venue serves up everything from sweet potatoes to slow-roasted stuffed turkey and mouth watering cranberry sauce. The price per person is usually around the 65 euro range with coffee and water included.
Bookings: https://harrysbarfirenze.it/en/events-catering/
Address: Lungarno Amerigo Vespucci, 22r – 50123 Firenze
(Via Ristorante Accademia Instagram)
Ristorante Accademia
With four courses including a mouthwatering dessert of Apple Strudel, Pumpkin, or Pecan pie this Thanksgiving dinner is sure to leave everyone happy. It's also extremely affordable at 40 euros per person, drinks not included. Reserving early is highly encouraged.
Bookings: ristoranteaccademiafi@gmail.com
Address: Piazza San Marco, 7r, 50121 Firenze FI, Italy
Hard Rock Cafe
It doesn't get much more American than the Hard Rock Cafe. This classic chain does not disappoint with its Thanksgiving menu. They have all the classic staple dishes from slow-roasted Turkey to creamy sweet potatoes and a pumpkin pie dessert. They also offer a vegetarian menu if requested in advance. The price is extremely affordable at around 30 euros per person depending on the order.
Booking Link: https://www.hardrockcafe.com/thanksgiving.aspx
Address: Via dei Brunelleschi, 1, 50123 Firenze FI, Italy
COPENHAGEN
AmCham's Family Thanksgiving Dinner at The Marriott
The AmCham has been throwing Thanksgiving dinners for the past 23 years and this year is sure to be another success. Even though the dinner takes place on November 19th it has all the classic dishes, American wine and beers, and entertainment. Tickets go for 475 DKK
Booking Link: https://amcham.dk/events/amchams-family-thanksgiving-dinner/
Address: Copenhagen Marriott, Kalvebod Brygge 5, 1560 Copenhagen V
(Via American Pie Co. Website)
American Pie Co.
The name says it all, it doesn't get more Thanksgiving than a fresh pie! American Pie Co. does not guarantee reservations on Thanksgiving and has a first come first served reservation policy. However, you can order their Take & Bake Thanksgiving Dinner which is extremely popular, all the classic dishes are provided and just need to be put in the oven before being served. They also provide gluten-free and vegan options upon request. Make sure your order is in by November 20th to ensure a delicious meal.
Booking Link: https://theamericanpieco.mealo.dk/
Address: Skindergade 25, 1159 København, Denmark
The American Bar
This bar feels like a taste of home with a warm ambiance reminiscent of a classic American establishment with a Scandinavian twist. Guests can expect a mouthwatering meal of roasted turkey, fresh pumpkin pie, and a range of drinks to pair with the meal. Loved by both expats and American food lovers alike this tends to fill up quickly so make reservations early!
Bookings: info@theamericanfields.dk or use their booking form on the website https://www.theamericanfields.dk/reservation
Address: Arne Jacobsens Alle 12 Field's Shoppingcenter, Copenhagen 2300 Denmark
MADRID
Trikki New Orleans Cuisine
Trikki offers an incredible fusion of American dishes with a Creole twist. Their special menu has everything from blackened Turkey to Jambalaya stuffing. Trikki brings the flavors and Cajun spices of New Orleans to the dinner table in Madrid. Their special menu has everything from blackened Turkey to Jambalaya stuffing.
Bookings: https://trikkicuisine.com/book-a-table
Address: Calle de Sta Engracia, 109, 28010 Madrid, Spain
Roll Madrid
This restaurant's mission is about showing the rest of the world that American food is delicious, so it makes sense they have a drool-worthy Thanksgiving menu every year. Their menu consists of all the traditional roasted turkey and tons of sides with exciting twists. The cost of the dinner is around 40 euros per person and includes a drink of choice as well.
Bookings: https://www.rollmadrid.com/en/
Address: AMANIEL STREET, 23 28015 MADRID
Carmencita
This epic brunch spot keeps its Thanksgiving menu going from November 22nd – 26th because it's that good! For 40 euros per person, you get a starter, main dish, dessert, and choice of drinks. If you want to experience your meal at home, Carmen also has a premade take away option perfect for a dinner party.
Bookings: https://carmencitabrunch.es/thanskgiving/
Address: C. de San Vicente Ferrer, 57, 28015 Madrid, Spain
Happy Thanksgiving From Abroadeez!